Robert Gordon and the other Black Anglican
clergy in Jamaica in the 19th and early 20th centuries.
 ____________________________________________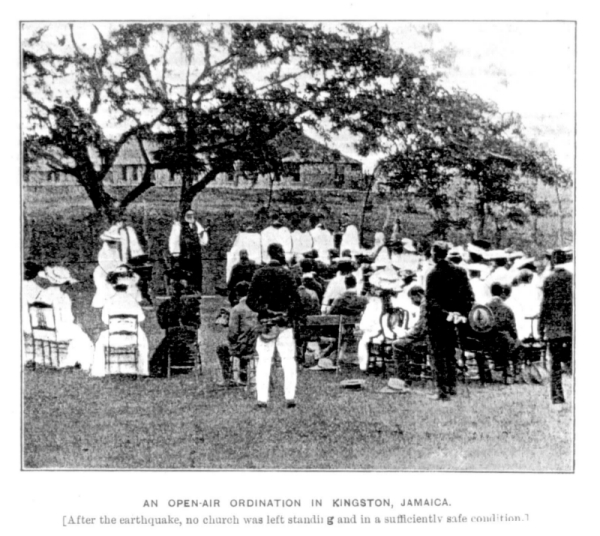 Little has been written in a hundred years on the Black clergy of the Anglican Church in Jamaica in the nineteenth century; only one Black Jamaican Anglican priest, the Rev Robert Gordon, has received any serious attention, and he was never the incumbent of a church in the island. On this site I hope to recover the stories of at least five other Black Anglican priests, four Jamaicans and one from Sierra Leone, all of whom were incumbents of Anglican Churches in the island. 

The thesis has been expressed that there were

 

no Black Anglican clergy in Jamaica before 1904, which raises one set of issues; the fact that there were such clergy introduces interesting new issues, which I hope other researchers will take up and debate.
 In his book on the Anglican/Episcopalian Church in Jamaica, Roots and Blossoms, the Rev Dr Edmund Davis makes a categorical statement - 
  'Between 1843 and 1904, no black man was admitted to the ministry of the Church in Jamaica'.

He also holds Archbishop Nuttall responsible for this fact, at least in part, when he writes  

  'But not even the great Enos Nuttall had the wisdom to see that the black man could be trained to fill the vacant
churches.'

In 
Theological Education in a Multi-Ethnic Society
, writing of the Church Theological College, he further states 

  'Between 1858 and 1904, no black candidate was admitted to the college. A few applied for admission but were all rejected on grounds which may be interpreted primarily as ethno-cultural.'

None of these statements will stand up under further investigation.
In A History of the Diocese of Jamaica, Bishop E L Evans writes of  
'. . . two black catechists ordained [deacons] by Bishop Courtenay, Thomas Banbury in 1870 and Charles Christopher Douce in 1876. Banbury was later Rector of Hope Bay for 29 years and Douce was Rector of Manchioneal, Rural Hill and Boston from 1881 - 1904.'[p30]
Although Evans does not note that either man was priested, the fact that they were both rectors of churches for long periods of time at least suggests that they might have been, and in fact both men, clearly identified as Black, were later priested - Banbury in 1873 by Bishop Courtenay, and Douce in 1881 by Bishop Nuttall. 
Further research has identified at least three other Black Anglican clergy ordained in Jamaica before 1904 - R. O. Taylor, C. L. Barnes and A. Cole. There may well be others yet to be identified, a process which may in part depend on what definition of 'Black' is used.

One reason why these men have been overlooked is almost certainly because of a general 
reluctance at that period to identify people by their colour in official documents and publications; there is no identification of Anglican clergy by colour in any synod reports or other official publications that have been used in this research. It is only in books and the columns of newspapers, even occasionally church newspapers, that such identification is made in rare circumstances. 
Another reason may well be that the established perception, which may also be questioned, that the Anglican Church was then the White people's church, made it seem pointless to look for Black clergy.
The question of the colour of the Jamaican clergy does surface from time to time, somewhat  surprisingly,in the church's own newspapers. In the Jamaica Church Chronicle of November 1876 a Black man is quoted as protesting 'that in the Jamaica Church there has been " lately ordained a set of ignorant mulatto boys, without mental  culture, or brain enough to guide those who are placed under their charge." ' The unexpressed implication was presumably that Black men could do a better job!
Significantly the Rev Mr Douce was mentioned in a book written many years later in 1907 - The Cruise of the Port Kingston – in which the author, W. Ralph Hall Caine, a man, at that time, of strongly racist opinions (he reputedly reformed later), wrote –
'Whether from motives of economy or necessity or with the motive of reaching the largest number, the Archbishop [Nuttall] has accepted into the priesthood the services of the black as well as the coloured native (more than half the priesthood is now black or coloured), and in the country church the congregation as a result is wholly black, the white planter and his family being never seen within its walls at any service. In many cases there is no white planter to come. But in any event I must make at least one exception to the rule, and that in the case of the Rev. Mr. Douce, now of Mooretown but formerly of Manchioneal.
Mr. Douce has enlisted the esteem of the white without forfeiting the confidence of the black, and his admitted success is one of the facts with which we have to reckon. As a clergyman candidly but rather cynically said to me, "One of the saddest facts I know is that Douce has not turned out a failure. His success is indisputable." '[pp104-5]
Here Nuttall's policy receives a very different interpretation from that given by the Rev Dr Davis, and the Rev Mr Douce stands out as a successful example of that policy, much to the discomfiture of those opposed to the ordination of Black, and even Coloured, men. 
My hope is that this web site will help to restore to the historical record a significant group of Black Jamaicans whose existence has been overlooked. It may be possible to find out more about them as individuals and understand more about their motivations, and their role in the wider community. Having researched them over several years I have come to see them as necessary to a much broader understanding of the period, and the Jamaica, in which they lived.